Hacks for beautiful and glowing skin are always updated from time to time and we adopt different DIY skincare options in our skincare regime to achieve beautiful skin. There are so many things that can be found in our very own kitchen to make a healthy skincare recipe in few minutes and are proven to be successful!
Beauty is not just being born with great looks but you need to maintain the glow of your skin, and keep your skin alive and look fresh in all seasons. With our hectic schedules, taking out time to achieve the softer and supple skin becomes difficult and it gets harder to include expensive skincare recipes. So all we long for are simple and effective tricks which take just few minutes to make and apply.
You might have read about various recipes using various food products to flaunt a supple and soft skin. But who knew that the juicy and delicious grapes can also be turned into such recipes to hit soft skin. Yes, grapes can be used to make these simple skincare recipes all by yourself according to your skin type and right at the comfort of your home as grapes are full of Vitamin C, Vitamin B6, Thiamin and antioxidants which are useful to cleanse your skin and for the exfoliation of the skin leaving you with a softer skin.
Add the following Do-It-Yourself procedures to your skincare regime. Prepare these three different skincare recipes according to skin-type and need.
Grapes as skin cleanser : (all skin-types):

This is a simple trick for all skin types. All you have to do is, cut 2-3 ripe grapes in half and apply their juice all over your face avoiding eyes and mouth areas. Wait for some time and rinse off with lukewarm water.
You will be left with a cleaner and softer skin.
Grape Mask (for oily skin):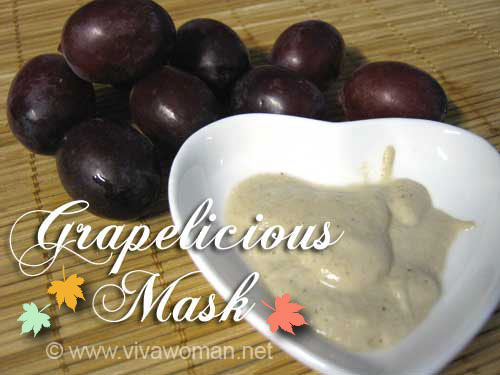 The following ingredients are required to whip out this recipe:
1 tablespoon of grape juice
1 tablespoon of lemon juice
1 tablespoon of mint juice
Ice water
Rose water
Procedure: Mix grape, lemon and mint juices together and apply to your face. Leave it for about 20 minutes and then rinse it off.
Now, mix ice and rose water together and apply to your face. Do not rub your face with a towel but just dry it out with a towel so that you are not being harsh on your skin. This mask is basically for the ones with oily skin.
Grape and Chamomile Tea mask (for all skin-types):

Keep the following ingredients ready to make this mask:
10 grapes
2 tablespoons of Chamomile Tea
2 tablespoons of Corn Flour
Procedure:
Mix 2 tablespoons of Chamomile Tea and 2 tablespoons of Corn flour and stir well to make a paste of it.
Now, mash the grapes and add them to the paste of chamomile tea and corn flour and blend them properly.
Apply this paste or mixture to your face.
Leave for about 15 minutes.
Rinse it off.
Apply a moisturizer that you use usually.
Try out these easy-peasy, DIY skincare recipes using grapes and score softer skin with no huge expenses!